Home-cooked meals are about more than just sustaining the health of you and your family—they're about getting everyone together, laughing around the table, and enjoying each other's company. Whether you prepare nightly dinners for your family or you love hosting big dinner parties for your friends, having a fully functional oven is an absolute necessity. That's why, if yours is exhibiting signs of malfunction or trouble, it's important to get it fixed as soon as possible, lest you forgo home-cooked meals indefinitely. At Cor-Jus Enterprises, Inc., we offer professional and affordable oven repair services so that you'll be able to get the expertise you need without paying an arm and a leg. We're your one-stop resource for all the appliance repairs you might require, and that includes full-service oven repair and range repair. To get started on the expert oven repair you need, simply give us call or send us an e-mail today.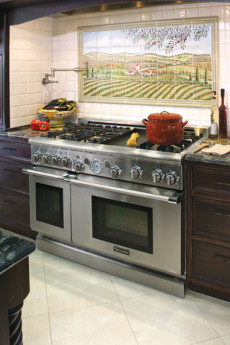 The oven and range repair technicians at Cor-Jus Enterprises have been in the trade for more than 40 years. That means, when it comes to ovens, ranges, hoods, and other cooking equipment, we know exactly what it takes to ensure you receive nothing short of excellent results. When it comes to a complete oven repair service, accuracy and know-how are key. Whether you have a gas or electric model, there are many fire and safety hazards to be mindful of throughout the repair process. That's why it's essential that you have the seasoned pros from Cor-Jus Enterprises on your side!
Call for your oven repair service if you're noticing any of the following problems:
Insufficient heat
Uneven heat
Faulty burners
Pilot lights not igniting
Heat on the exterior
Sparks
Timers, lights, or other features not working
Don't put off your oven or range repair for one more day. Bring in our professionals for the fantastic service and affordable rates you deserve!
Thermador Stove Repair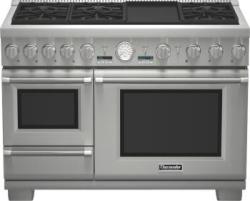 Given that upmarket models are our specialty, we're proud to offer exclusive Thermador stove repair and oven repair services to residents of Manhattan and neighboring areas of New York. If you made the investment in a sleek Thermador unit, then you deserve all of the quality handiwork and expertise you can get. That's why it's essential that you call the professionals at Cor-Jus Enterprises for the precision and attention to detail you need. We're deeply familiar with all of the inner workings of Thermador models, and we'll repair your Thermador stove or oven with unrivaled accuracy. Don't trust your expensive unit with any run-of-the-mill appliance repair company; instead, call the team with over four decades of experience and a flawless reputation. Cor-Jus Enterprises is here to help, so call today!