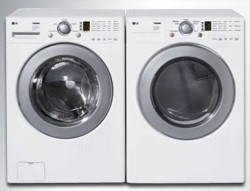 There's nothing quite like a pair of fresh socks or a warm, fluffy towel straight from the dryer. Helping you to get clean, dry clothes without the hassle of hanging every item on a clothesline, your dryer is probably one of the appliances that you take most for granted. That's why, when your dryer stops tumbling or takes too long to complete cycles, it can be seriously frustrating. But with professional dryer repair service from Cor-Jus Enterprises, Inc., you'll be able to get the expert attention and care you need to get your unit back to working order in no time. We're capable of working on models from all different brands, especially high-end models, so whether you need Maytag dryer repair or GE dryer repair, you can rest assured it will be in excellent hands. Don't let mountains of dirty laundry take over your house, and don't resort to watching your clothes drip-dry on the line—simply contact our washer/dryer repair team and get the prompt, affordable service you need today!
At Cor-Jus Enterprises, we've had more than 40 years of experience performing dryer repairs throughout Manhattan and New York. Offering world-class precision and unbeatable clothes dryer repair results are the cornerstones of our operation, and we'll work with the utmost integrity and respect for your property. We don't ever take shortcuts when it comes to washer/dryer repair service, which means you won't just receive a quick, superficial fix. Instead, you'll get a truly long-lasting solution for the problem—whether it's a malfunctioning door switch, heating element, or drum belt—and have the answers you need to avoid similar problems in the future. We're able to perform clothes dryer repair for all of the most common issues, including:
Not tumbling
Not drying
Overheating
Tearing clothes
Staining clothes
Making excessive noise
Not starting at all
When you're in need of Gibson, Kenmore, or Maytag dryer repair for your residential model, we're the team in New York City to call. With more than four decades of experience, Cor-Jus Enterprises has more first-hand knowledge than you'll ever find in a dyer repair manual, so if you're considering a DIY attempt, think again. Dryer repairs are complicated and time-consuming, and they're best left to an experienced professional in order to minimize the potential damage and downtime. Our washer/dryer repair specialists will work efficiently and accurately to get your dryer back in working order with as little delay as possible. To schedule an appointment, call or e-mail us today!