Does a broken dishwasher have you hand washing every plate, knife, and cup after meals? Not only is washing dishes by hand a huge hassle—it is also less effective than using a dishwasher. It doesn't matter how hard you scrub or how hot the water is—no amount of elbow grease will ever match a dishwasher when it comes to cleaning and sanitizing your plates and silverware. If you're dissatisfied with your dishwasher's ability to clean your dishes or you have noticed that it is displaying undesirable behaviors such as leaking, get in contact with the dishwasher repair professionals at Cor-Jus Enterprises right away. Our technicians have been providing reliable dishwasher repairs in the New York metropolitan area since 1972, and our professionals have an astounding 40 years of direct industry experience, so you can count on us for precision dishwasher repairs the first time around. We are looking forward to using our extensive experience to restore convenience to your kitchen with our comprehensive appliance repair services.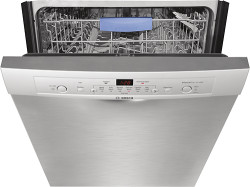 Every dishwasher repair project comes with its own unique set of challenges, but regardless of the kind of repairs you require or how damaged your unit is, you can always expect the same professional approach and respectful attitude from Cor-Jus Enterprises. We'll be here to help when you need us, prepared with the finest dishwasher repair tools and parts on the market. When we arrive for your dishwasher repair appointment, we will examine your unit inside and out and troubleshoot it in order to accurately identify the reason you've been experiencing problems. Once we've located which portion of your appliance requires professional attention, we will do all we can to restore your dishwasher to perfect working order.
While providing high-quality dishwasher repair is our number-one goal, we also emphasize comprehensive customer care. From the time we first arrive on your doorstep until your dishwasher repairs are complete, you can count on friendly, respectful service. Our dishwashers repair experts always maintain an open line of communication to ensure that you're totally informed and comfortable with every change we make to your machine, and we can even educate you on how to prevent the need for similar dishwasher repair in the future. Or, if you'd like, we can schedule regular maintenance, cleanings, and checkups to ensure that your unit is always in perfect condition. 
Our dishwashers repair professionals can solve a variety of problems, including:
Not turning on at all
Not draining
Not filling
Water not reaching correct temperature or spray pressure
Leaking
Dishes not getting clean
While Cor-Jus Enterprises concentrates on serving residential customers, we are also available to provide dishwashers repair in commercial settings, provided that the unit in question is a residential-style appliance. We have the skills and experience to diagnose and repair most major brands and models, including providing Bosch dishwasher repair, GE dishwasher repair, and more. The only thing keeping your dishwasher from operating flawlessly could be a broken switch or deteriorated seal, so pick up the phone and call us today if you're tired of putting up with sub-quality performance from your unit. Our world-class precision and sincere dedication to customer satisfaction make us the natural choice for dishwasher repair in Manhattan and surrounding areas of New York.
Bosch Dishwasher Repair
If you were smart and invested a few extra dollars on a sleek, high-performance Bosch model, then you deserve an appliance repair company you can trust to handle your unit with extra care and painstaking attention to detail. At Cor-Jus Enterprises, we're happy to offer incredible results for Bosch dishwasher repair services in homes and small offices alike. From examining your unit's performance issues to creating a repair plan to completing the wrench's final turn, we'll provide you with outstanding Bosch dishwasher repair regardless of what's ailing your unit. Call now to get started!